I'm kind of annoyed that over time, my custom made tight fitting front reflective window shades, new as of 18 months ago, seem to lose some of that reflective aluminum thickness, and some light and likely more heats, gets through. 
    I have some more, I can splice it together, double it up, two layers taped together is much less flexible/ harder to roll up and store while driving,  than if it were one thicker layer, and this is also doomed to become translucent over time.
Many years ago, 2007 ish, I replaced the insulation on the inside of my engine cover and used another type of silver insulation, this one is more like small celled foam inbetween the aluminum reflective exterior.  It has actually held up very well, but I don't know how much sunlight it would let through.  Cant recall its thickness or r rating though.  It did seem to keep engine cover itself much cooler, compared to what was left from original insulation.  I think reflectix would have been truly trashed by now had I used that.
I saw this Other product which is White on one side and reflective on the other.  comes in 3 5 and 10mm thicknesses.
Not sure how much the R value figures can actually be trusted.  They
claim
: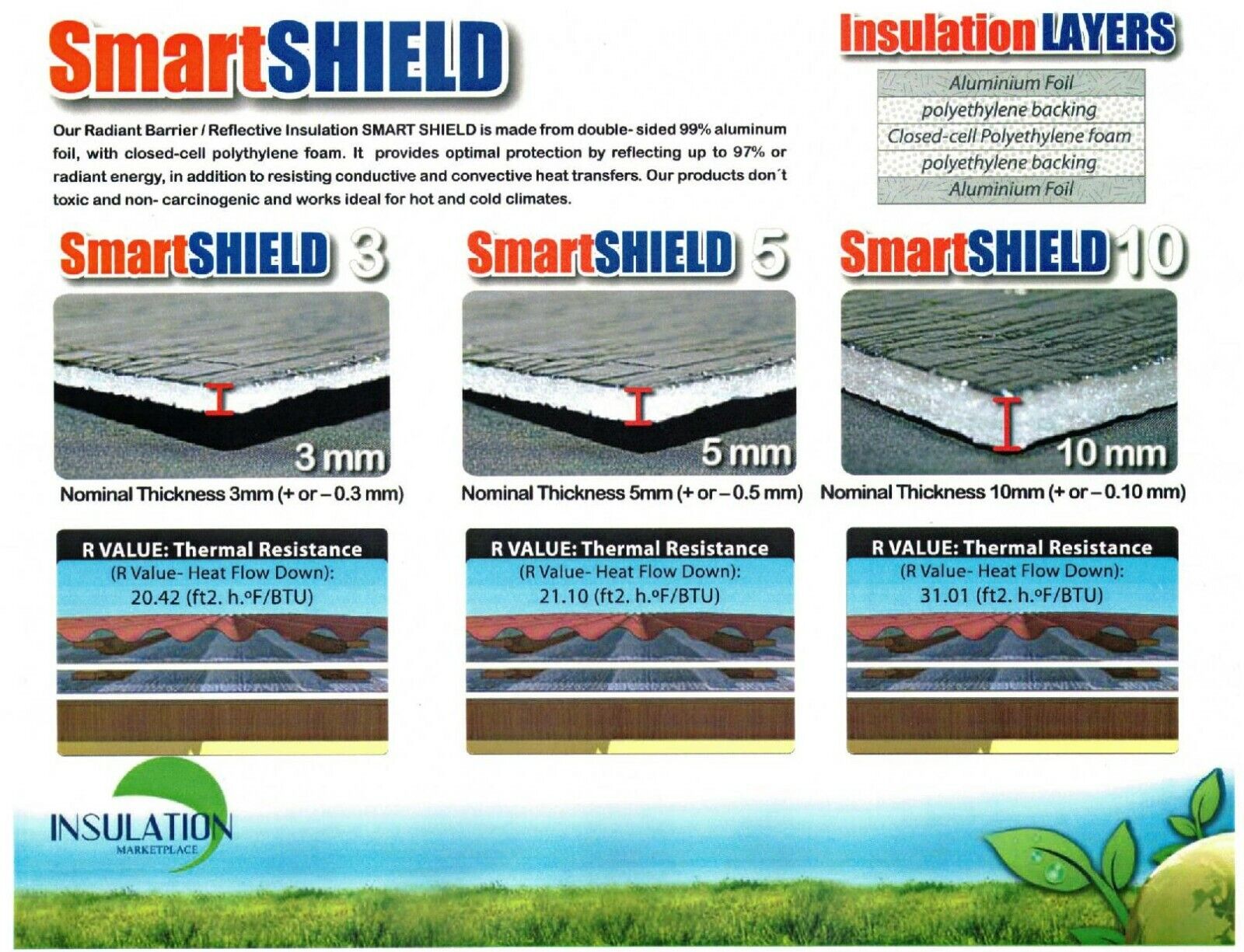 whereas Reflectix claims R8
The white side intrigues me, as it  could be a passable wall or ceiiling cover, whereas aluminum is not, IMO. I have very slight insulation on my white interior walls as I only ever intended to be in mild climates, but.......  I might give California the rear view mirror more often in the future.
Anybody have any experience/info on these other reflectix competitor options when used in windows? They are not all that much more expensive.
https://www.ebay.com/itm/SmartSHIELD-5W-...5sVScUfHyg
Short term I want a better windshield screen. One white side not important here. UNless it stops even more light than dual silver.
https://www.ebay.com/itm/SmartSHIELD-5-R...SwMDhcnoJj
I think the 10Mm version could be pretty easy to stuff tightly along my walls without adhesives/fasteners.
I'd expect the foam version to dampen sound more effectively than reflectix, but heat?  
Is reflective bubble foil/reflectix  the harbor freight/ dollar store version of reflective insulation?  Spend a little more and get much better function and longevity?
If were spitballing along these lines I'd also like to line my firewall with some sound dampening, perhaps front doors too but products like Dynamat are so pricey.....