Well, here is my attempt to document my build that is underway on the above van.  It is taking me more time to build it than I thought it would when I started it. The amount of work that I could do in one day 25 years ago now takes me three or four days to do today, and I might need to rest and recuperate for a few days after that!
Mid October I bought a solar system package from Wholesale Solar up in Mt Shasta, CA. It has four 160 watt panels, a Morningstar TriStar Charge Controller, TS-MPPT-45, a Magnum Energy MS2012, 2000 watt Sinewave Inverter, two Crown AGM 220 Ah batteries and all the other cool goodies to go with. I hope to get two more of those batteries to add to the bank real soon.
Anyway, I figured out that this would maybe all fit in my van so I made a preliminary sketch: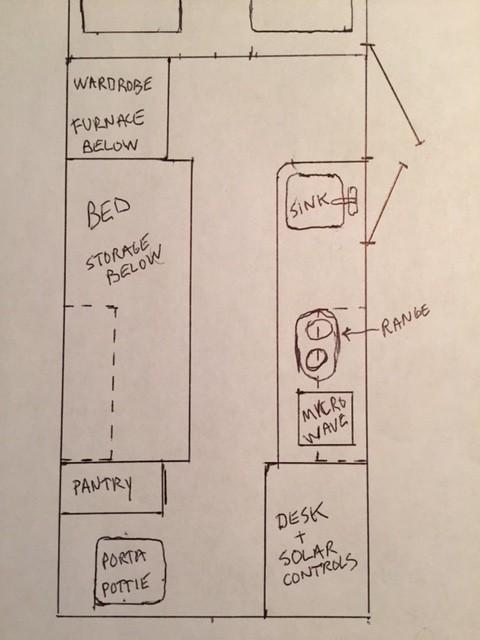 Gutting all the plastic out of the back of the van was not to much work, but I got my neighbors son who can carry around 1/2 a telephone pole by himself to come over and remove all of the bench seat brackets and rear seat belt stuff. The box of that stuff must have weighed over 150 lbs.